The Mal M. Moore Athletic Facility is the home of Alabama Football and houses the new Athletics Dining Facility as well as training facilities for our student-athletes.
In order to provide our student-athletes with the best facilities for training and practice and to continue attracting the nation's best recruits, several areas will receive renovations as part of The Crimson Standard.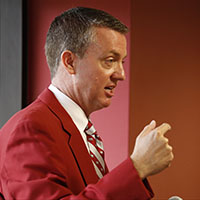 "Evolution of our facilities is critical as we continue to move our programs forward to the levels we expect them to perform at and compete for championships. This was a process that involved our student-athletes, our coaches, our staff, University leadership and our fans." -- Greg Byrne
The lobby will be completely renovated with a new entry vestibule, new stairs, relocated reception desk and a new video component.
The locker room will be completely renovated with new lockers and a revised configuration, which will create lounge space within the locker room. Additionally, the recovery pools will be relocated to align more closely with the hydrotherapy treatment areas.
The current training and equipment spaces will be flipped for efficiency. Both the equipment room and laundry room will gain additional square footage and new cubbies with opportunities for equipment display will be created. The hydrotherapy area will be completely reconfigured.
A new two-level Sports Science Center will feature new wellness treatment opportunities such as cryotherapy, chiropractic, stretch, massage and mental health services. In addition, relaxation and treatment recovery areas will be available.
The current weight room will be expanded.
Renderings are conceptual and subject to change. All projects are subject to approval of The University of Alabama Board of Trustees, presidential approval and fundraising success.