Coleman Coliseum is home to Alabama men's basketball, women's basketball and gymnastics. As part of Phase 2 of The Crimson Standard, Coleman Coliseum will receive an extensive renovation and modernization. The renovation will maintain the historic look that has been beloved by Crimson Tide fans since 1968 while completely transforming the interior of the building to excite fans for years to come.
The unique barrel vault roof and north entry columns will remain while the seating bowl will be entirely renovated bringing every fan closer to the action provided by Alabama basketball and gymnastics.
The new bowl will offer a variety of seating options and amenities that were never possible before in the existing structure.
When completed, seats in the bowl will move as much as 35 feet closer to the court compared to their present location, providing sightlines that are among the most intimate in the country.
New premium seating will be available to include:

Dedicated club seats
Multiple lounge spaces
A distinctive courtside club – providing a game-day experience that will not be matched in the Southeastern Conference (SEC)

The renovation looks to add unique club areas, social zones, and student spaces for fans entering Coleman Coliseum.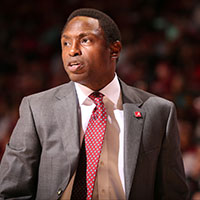 "I'm fired up about what Coleman is going to look like, what it's going to do for recruiting, what it is going to do for fan experience. The lighting, club levels, better experiences with students, closer seating to the court, new video board that blows everyone else potentially out of the water. We want our fans to have an incredible experience here at this newly renovated Coleman Coliseum. This Crimson Standard is a major part of getting us there." -- Avery Johnson
Beyond fan amenities, the student-athletes who compete in Coleman will also benefit from the renovation. New women's basketball and gymnastics team locker rooms will be built on the south side of the arena along with new men's and women's basketball offices. A new loading dock and kitchen will also be built on the east side to allow better functionality and fan offerings throughout the arena.
These efforts will allow Coleman Coliseum to become one of the most intimate, intimidating and challenging places to play in the SEC, and will provide fans and student-athletes an experience inside the venue that will be one of the best in the nation.
Renderings are conceptual and subject to change. All projects are subject to approval of The University of Alabama Board of Trustees, presidential approval and fundraising success.